Shaving Utensils - Razors and shaving cream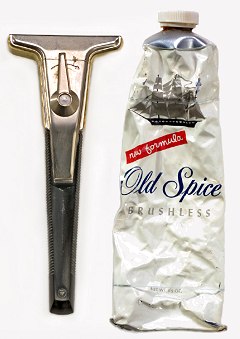 Mike Collins' Apollo 11 razor & shaving cream, part of the NASM collection
The first long duration Gemini spaceflights brought the issue of shaving in space to the fore. The main concern was to ensure that loose whiskers would not end up floating into critical flight instrumentation, but early experiments with electric shavers fitted with simple vacuum attachments were a failure.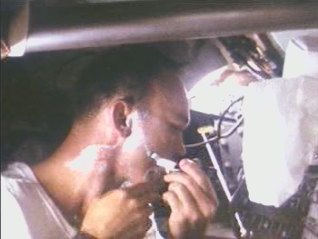 Still frame from Apollo 11 16mm onboard film showing
Mike Collins shaving with a Gillette Techmatic razor
On Gemini through Apollo, the crews were issued with safety razors but these apparently went unused until the flight of Apollo 10.
Despite the original concerns it was found that using brushless shaving cream and safety razors there was actually no problem with loose whiskers. The process of shaving was still far from easy - most crews reported that the razors quickly became clogged with used shaving cream and whiskers and were almost impossible to clean out in the absence of running water.
The safety razors and brushless shaving creams used by the astronauts were regular commercial products and the crews were apparently free to choose the brand they wanted to carry with them on a particular flight.
The Apollo Stowage Lists make no mention of the shaving equipment carried by the crews, but we do know that Apollo 11 Command Module Pilot Mike Collins used a Gillette Techmatic safety razor and Old Spice brushless shaving cream on that flight as these are part of the Smithsonian collection. We also know that a tube of K-34 Gillette brushless shave cream was used by the crew of Apollo 12, as this was given by them to Support Crew member Paul Weitz as a momento after the flight. On Apollo 13 we know that they used a shaving cream by Mennen, as this is mentioned in the technical debriefing.
Although safety razors were found to work reasonably well in a weightless environment the evaluation of mechanical razors for use in space continued. These efforts led to the adoption of a wind-up mechanical design made from acrylic which was used for the first time on Apollo 14 with reasonable success.
On Apollo 16 Ken Mattingly used a mechanical razor and found it worked well if used frequently. If used on two day old stubble however, he reported that it felt like the whiskers were being pulled out rather than cut. His crewmates apparently used Wilkinson 'bonded blade' safety razors when they had to shave, but found the same problem with clogging blades as earlier crews.
Despite the difficulties, which led many astronauts to let their beards grow for at least part of the missions, most reported that it felt very refreshing when they did manage to shave.
FLOWN availability - The only Apollo-flown shaving utensils I've seen sold to-date are those sold in 2009 at a Heritage Space Auction.
Unflown availability - The razors used by NASA were unmodified commercial models without any NASA part or serial number stamps. Vintage Gillette Techmatic razors and Wilkinson bonded blade safety razors identical to those used on some Apollo missions are readily available on eBay.