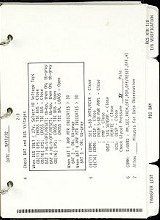 A page from the Apollo 17 LM Activation Checklist
The Flight Data File Assembly was the term used by NASA to refer to the complete collection of checklists, orbital charts, maps, data files, procedures, flight plans, and data card kits carried aboard each spacecraft.
Most of the documents were in the form of multiple thick paper or thin card loose leaf sheets ranging in size from 5½" x 8" to 8½" x 10½", held together by three metal rings inside card covers. Some of the documents had fold-out pages to reproduce large-scale diagrams or plans, and some of the maps and charts were printed on sheets of thin plastic.
The Flight Data Files were a vital part of the operational equipment of each mission and would be considered as historically signficant documents by any standards. The fact that the astronauts were allowed to keep the flown documents as souvenirs after the flights means that over the years some have been made available to collectors.
It would take an entire website to examine in any detail the contents of the Flight Data File Assembly for each mission so below I will just take the example of Apollo 11 and show the list of components that make up the assembly in each spacecraft.
Apollo 11
The Flight Data File stowed in the Apollo 11 Command Module at launch (as shown in the Stowage List extract below) consisted of 17 separate items and weighed-in at an impressive 20lb (9kg). Four of the items are LM-related and are noted as being transferred to the Lunar Module prior to undocking. These items weigh 2.4lb (1kg) in total.
A 0114.
SKB32100080-201
FILE, FLIGHT DATA
IN CM AT LAUNCH
20.0
1
A 0114.1
SKB32100080-306
CHECKLIST,LAUNCH OPERATIONS
PGA POCKET
2
A 0114.2
SKB32100080-307
CHECKLIST, OPERATIONS
PGA POCKET
2
A 0114.3
SKB32100080-308
CHECKLIST, ENTRY OPERATIONS
R1
2
A 0114.4
SKB32100080-304
CHECKLIST, ALTERNATE AND CONTINGENCY
R3
1
A 0114.5
SKB32100080-350
FLIGHT PLAN
R12
1
A 0114.6
SKB32100080-351
FLIGHT PLAN, ALTERNATE
R1
1
A 0114.7
SKB32100080-340
SYSTEMS DATA,CSM
R12
1
A 0114.8
SKB32100080-341
MALFUNCTION,PROCEDURES, CSM
R12
1
A 0114.9
SKB32100080-330
UPDATES,CSM
R12
1
A 0114.10
SKB32100080-353
SOLO BOOK,CMP
R1
1
A 0114.11
SKB32100080-322
MAPS,CSM LUNAR LANDMARK
R1
1
A 0114.12
SKB32100080-360
CHECKLIST,LM SYSTEMS ACTIVATION
(R3) XFR To LM
.6
2
A 0114.13
SKB32100080-388
TIMELINE BOOK,LM
(R3) XFR To LM
.6
1
A 0114.14
SKB32100080-371
MAPS,LM LUNAR SURFACE
(R3) XFR To LM
.6
1
A 0114.15
SKB32100097-301
CHART,TARGET OF OPPORTUNITY
R3
1
A 0114.16
SKB32100058-201
MAP,ORBITAL-EARTH
R3
1
A 0114.17
SKB32100025-303
DATA CARD KIT, LM XFR
(R3) XFR To LM
.6
1
Apollo 11 Stowage List - Command Module Flight data file entries
The Flight Data File Assembly stowed in the Apollo 11 Lunar Module at launch (as shown in the Stowage list extract below) consisted of 7 separate items and weighed-in at 5.8lb (2.6kg).
A 1008.
SKB32100074-201
FILE ASSY, FLIGHT DATA
FLT DATA FILE CONT.
5.8
1
A 1008.1
SKB32100074-363
CHECKLIST,LM LUNAR SURFACE
.8
1
A 1008.2
SKB32100074-362
CHECKLIST,LM CONTINGENCY
1
A 1008.3
SKB32100074-361
DICTIONARY, LM G AND N
1
A 1008.4
SKB32100074-386
MALFUNCTION PROCEDURES, LM
1
A 1008.5
SKB32100074-385
SYSTEMS DATA,LM
1
A 1008.6
SKB32100074-387
BOOK,LM DATA CARD
.9
1
A 1008.7
SKB32100074-392
RENDEZVOUS,LM
1
Apollo 11 Stowage List - Lunar Module Flight data file entries
The sheer weight of the Flight Data Files is impressive with 17.6lb (8kg) of CM-flown material and 8.2lb (3.7kg) of LM-flown material carried on the Apollo 11 flight.
As the missions became increasingly complicated more checklists and procedures had to be carried, so the total weight of the CM and LM Flight Data File Assembly crept up gradually from just under 26lb (12kg) on Apollo 11 to over 36lb (16kg) on Apollo 17.
In total there were probably well over a thousand sheets of paper, card and plastic carried on each Apollo mission.
FLOWN availability - A significant number of complete flight data file components have been sold at auction over the years. A number of checklists and other components have also been broken up and sold page by page either by the astronauts themselves or by third parties.
There is enormous variation in the prices fetched by complete documents and loose pages depending on the mission, whether the item was carried to Earth orbit, lunar orbit, or the lunar surface, whether the item deals with a particularly interesting aspect of the flight, and whether or not it was annotated during the flight.
To get some idea of these variations you can simply compare the sale of two items in the Heritage Fall 2008 Space Auction: Gene Cernan's complete intact Apollo 17 CM-flown Flight Plans (Volume I & II), consisting of at least 250 pages, sold for $33,460 while just one double-sided page from Buzz Aldrin's Apollo 11 CM-flown Flight Plan sold for $16,730.
Another comparison from the same auction: Gene Cernan's complete intact Apollo 17 LM-flown LM Contingency Checklist, consisting of at least 150 pages, sold for $22,705 while just one double-sided page from Buzz Aldrin's Apollo 11 LM Surface Checklist sold for $23,900.
Unflown availability - Very few copies of the final flight data files were produced so genuine vintage copies, especially those used in training, are rare and highly valued collectibles.
Legal Disclaimer:
While every effort is made to ensure that the content of this website is accurate, the website is provided "as is" and I make no representations or warranties in relation to the accuracy or completeness of the information found on it. Nothing on this website should be taken to constitute professional advice or a formal recommendation and the author excludes all representations and warranties relating to the content and use of this site.
In no event shall the author be liable for any incidental, indirect, consequential or special damages of any kind, or any damages whatsoever, including, without limitation, those resulting from loss of profit, goodwill, income, or anticipated savings, whether or not advised of the possibility of such damage, arising out of or in connection with the use of this website or any linked websites.