Apollo missions
The first spoons to be flown by NASA were apparently carried for experimental purposes on the Apollo 8 and Apollo 9 missions, with one spoon provided per crew member. From Apollo 10 onwards these spoons became part of the regular flight euipment and two additional spoons were provided for use in the Lunar Module.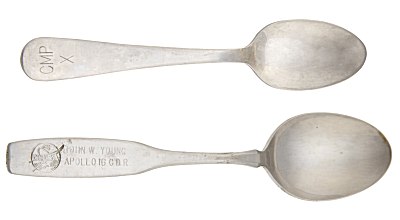 Top: Apollo 10 flown Silco spoon
Bottom: Apollo 16 flown Community spoon
The earliest flown spoon I've seen sold dates from Apollo 9. On that mission, and through to Apollo 11, the astronauts used a stainless steel tea spoon produced by Silco - a major supplier of flatware to the military.
Each spoon had a simple engraving on the handle with the astronaut's role at the top and the mission number below as a Roman numeral e.g. "CMP / X" for Apollo 10 CMP John Young.
From Apollo 12 through to Skylab III the astronauts used a larger Community brand dinner spoon, manufactured by Oneida. A plastic stowage pouch, complete with a small velcro attachment pad, was provided by NASA for each spoon.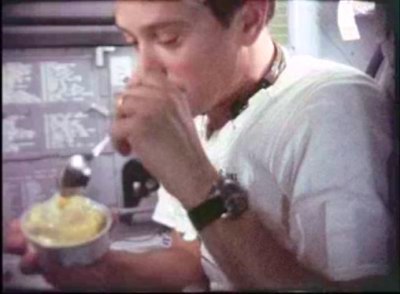 Still frame from Apollo 16 16mm onboard film showing LMP Charlie
Duke tucking into a 'wet pack' meal - probably a lemon pudding
For the Apollo missions these Community spoons were engraved with the NASA insignia on the handle followed by the full name of the astronaut. Below the name was engraved either the Apollo flight number and astronaut role (e.g. "APOLLO 16 CDR") or the Lunar Module spacecraft number and astronaut role (e.g. "LM-11 CDR").
The LM spacecraft number was used on the spoons carried in the Lunar Module by the Commander and Lunar Module Pilot, whilst the Apollo mission engraving was used on the Command Module spoons of all three crew members.
On Skylab, thanks to the improved food provisions on these long duration missions, astronauts were issued with knives, forks, dessert spoons and teaspoons, all by Community. The engravings on each utensil were simply the role of the crew member e.g. "PLT" with no name.
For the Apollo Soyuz Test Project they only carried Community dessert spoons once again.
FLOWN availability - Most Apollo and later astronauts were allowed to keep their personal spoons after the mission as mementos and a significant number of these have found their way to market over the years, fetching anywhere from $2,000 to over $10,000, as noted in the Annex below.
Unflown availability - It is likely that standard commercially-available spoons were used for training purposes so unflown examples without markings would not be particularly collectible. However, flight-spare examples with NASA markings have appeared on the market from time to time and tend to send well.