Apollo-era scissors
| | |
| --- | --- |
| NASA description: | SCISSORS |
| | |
| Manufacturer: | Weck |
| Model: | unknown |
| | |
| Dimensions: | approx 8" (20cm) long |
| Weight: | approx 0.5lb (227g) |
| | |
| NASA part no.: | SDB42100059-202 |
| No. carried/mission: | 3 |
| No. carried in LM: | 2 |
| | |
| NASA usage: | Apollo project onwards |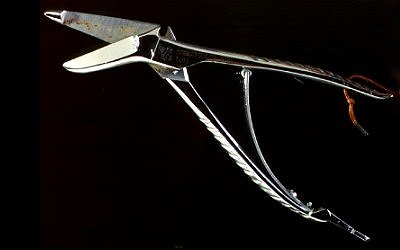 The scissors carried by Mike Collins on Apollo 11
The Apollo stowage lists show that each astronaut carried a pair of scissors on their pressure garment assembly at launch.
B 0204.
SDB42100059-202
SCISSORS
ON PGA
.5
3
Scissors entries from the Apollo 10-17 Stowage Lists
In fact the scissors were kept in a dedicated pocket that was strapped on top the legs of their pressure suit garment at launch and transferred to the leg of the in-flight coverall garment once in space. The scissors of the Commander and Lunar Module Pilot traveled with them in the lunar module and back on the lunar landing missions.
Each pair of scissors came with a lanyard that tied them to piece of plastic with a metal snap fastener attached. This male snap fastener connected to a female fastener that was incorporated into the flap of the scissors pockets the astronauts wore on their legs. The lanyard prevented the heavy and sharp scissors from becoming a free-flying hazard in the weightless spacecraft interior whilst still allowing them to be used easily.
Despite this lanyard, one pair of scissors still managed to get misplaced, as related by Apollo 17 Lunar Module Pilot Harrison Schmitt:
Ron Evans with his scissors on Apollo 17
"Each of us had a pair of scissors which normally traveled with us, but Ron lost his on the trip out from Earth. We had a lot of fun kidding him on the way out and all the way back about losing his scissors in a spacecraft which was, after all, not very big. But the complication was that the whole timeline on the surface was geared to having two pairs of scissors. With two pairs, Gene and I could leave one pair in the cabin and take the other pair outside - probably as a contingency tool - and not have to worry about taking it up and down (the ladder). However, because you needed the scissors to cut the plastic food bags, we finally condescended to leave one pair with Ron so that he could eat. And ultimately his scissors were found. I found them as we were preparing stowage for re-entry; but was able to signal to Gene that I'd found them without Ron knowing it. We continued to give him a pretty hard time [...] At the splashdown party we had at the Flight Control Division - probably a month after the mission - we presented the scissors to Ron with great fanfare."[1]
As with other items of personal equipment, the Apollo astronauts were allowed to keep their scissors after their flights as momentos.
In total, twenty seven pairs of scissors were flown to the moon on board the Apollo lunar missions as part of the personal equipment of the astronauts. Eleven of those pairs were carried to the lunar surface in the lunar modules. What would have been the twelfth lunar surface pair remained on the CM during Apollo 17 as noted above.
Schmitt's comments above imply that at least one of the two pairs of LM-flown scissors on each mission were actually carried outside during the EVAs. In fact this has since been confirmed by Dave Scott who stated that on Apollo 15 both he and Jim Irwin carried their scissors in a dedicated pocket of their space suits during the EVAs.
Variants
Although all flown examples from the Gemini and Apollo missions are essentially the same model of Weck surgical scissors there are some distinct variations in the maker's stamps visible on these examples that likely correspond to acquisitions made by NASA at different times over a period of several years. This may be of interest to people looking to find vintage non-NASA examples of these Weck surgical scissors that match those used by NASA.
Variant I :

Stamped "WECK STAINLESS U.S.A." on the upper arm and with an oulined "WECK" logo near the joint.

A pair of scissors flown on Gemini 10 has these markings, which makes it the oldest variant known to have been used by NASA.

Variant II :

Stamped "WECK U.S.A. STAINLESS" on the upper arm, and "WEXTEEL" on the lower arm, with an outlined "WECK" logo near the joint.

These markings are visible on scissors used on the first Apollo missions, with known examples from Apollo 7 (S/N 1003) and 9 (S/Ns 1006).

Variant III :

Stamped "WECK U.S.A. STAINLESS" on the upper arm, but with no other maker's marks.

These markings are present on examples of scissors flown on Apollo 11 (S/N 1015) through to Apollo 17 (S/N 1035).
Note that other combinations of maker's marks almost certainly exist but these are the variants I've managed to identify so far in known examples flown by NASA.
FLOWN availability - The Apollo astronauts were allowed to keep their scissors after the mission and some of these have since been sold at auction, as noted in the Annex below.
Unflown availability - NASA-issue scissors used in training are likely to exist but may be as difficult to track down as flown examples, but vintage Weck scissors of the same design used by NASA can be found from time to time on eBay.