The Silver Snoopy Award was created in 1968 as part of the Manned Flight Awareness (now Space Flight Awareness) program. The idea was to allow the astronauts to recognize the exceptional contributions of individual workers (management are generally excluded) within the vast Apollo program workforce at NASA and its contractors, and the tradition has carried on to this day.
The Silver Snoopy Award consists of a small Sterling silver Snoopy astronaut lapel pin, an official commendation letter, and (usually) an award certficate. The award is usually presented by a member of the astronaut corps.
The rules specify that an individual can only receive one Snoopy Award during their lifetime, although in reality some individuals did receive more than one Silver Snoopy award. It is also specified that not more than one percent of the eligible workforce should receive the award in a particular year. Given the size of the eligible workforce this does not amount to much of a restriction but in fact the number of awards presented each year is small.
Until fairly recently it was a commonly-held belief that all Silver Snoopy award pins were flown on a mission prior to being awarded, as has been the case for most of the Shuttle era. However no evidence has been found of Silver Snoopy pins having been carried by NASA on the Apollo missions and it seems likely that the only Silver Snoopy pins to have been flown in space prior to the Shuttle era were not those awarded as part of the SFA program but individual pins carried in very small numbers by some astronauts in their PPKs.
The first Silver Snoopy Awards were presented in June 1968 to the four crew members of the LTA-8 project, which tested the Lunar Module in a thermal vacuum chamber, and at least one other pin was awarded prior to the flight of Apollo 7.
NASA maintains an online database of Snoopy Award recipients, containing over 12,000 names dating from 1968 to the present, but it's important to note that this database is incomplete, particularly for the pre-Shuttle era. Older data is apparently still being added since in early 2007 the database contained only twelve entries for the entire Apollo era, whereas by late 2009 it contained closer to 500.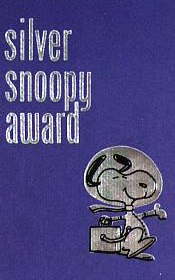 Number of Silver Snoopy pins awarded per mission
Using the SFA database to count the number of awards presented during the period between the end of one mission and the next gives us some indication as to how many Silver Snoopys were awarded per Apollo mission. However, the data is certainly incomplete and in addition some of the award dates in the database appear to be approximations, with many entries on 01/01/69 and 01/01/70 which likely represent cases where the exact date is unknown. These entries distort the data.
If we take the total number of recorded awards during the pre-Skylab date range we get an average of 36 pins awarded per mission. Over the period of the three Skylab missions (and prior to ASTP) a total of 207 awards are noted in the database, an average of 69 per flight. Allowing for gaps in the data it's probably safe to assume the number of pins awarded per Apollo mission was somewhere in the range of 50 to 100 at most.
Following the Apollo-Soyuz Test Project in 1975 practically no Silver Snoopys were awarded until the completion of the five Shuttle Approach and Landing Test free flights of 1977. Between the last ALT flight and the STS-1 maiden space flight of the Shuttle the SFA database shows 538 awards being presented.
In the Shuttle era we start to see award letters and/or certificates explicitly stating that the Silver Snoopy pin was flown in space and usually specifying the mission. At present the earliest solid evidence pointing to pins being flown on a particular mission comes from STS-2, with the Official Flight Kit manifest for STS-1 showing no Silver Snoopy pins carried on the flight.
Manifests for the Official Flight Kits are available for many of the Shuttle missions. These lists reveal that Silver Snoop pins were flown on around half of the pre-Challenger Shuttle flights (1981 to 1986), with around 50 to 100 Silver Snoopy pins carried on each of those flights.
By contrast, on the flights that followed the Challanger disaster from 1988 onwards many hundreds of pins were often carried per misson - e.g. 732 on STS-26 and 932 on STS-27. More Silver Snoopy pins were carried on the first two flights of 1988 than on all the preceding 24 flights put together.
On later Shuttle flights 140 to 200 Silver Snoopy pins were typically carried per mission, and across the whole Shuttle program we see an average of around 145 pins flown per mission, based on the available data.
It's worth noting that some of the pins were explicitly listed in the manifests as having been flown on behalf of Shuttle contractors Rockwell or Boeing as part of their MFA programs.
Collecting Silver Snoopy Awards
Whatever the actual numbers, Silver Snoopy pins are popular with space collectors as they are scarce, in some cases flown (at least in the Shuttle era), and have a prestigious history. The fact that the design itself is undeniably cute only adds to their appeal. These pins are also sought-after by Snoopy memorabilia collectors, of which there are legions.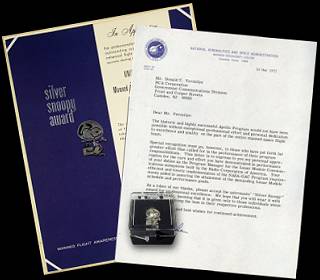 Apollo-era Silver Snoopy Award
A truly complete Silver Snoopy Award would include the lapel pin in its original plastic presentation box, along with the original award letter and certificate (where applicable).
In practice the documentaton often becomes separated from the pin over the years. The award letter is the least important looking item and the most likely to be discarded if left as part of an estate. The certificates too are frequently lost or thrown out.
If you have a pin without documents but you know the name of the recipient it may be possible to find out when it was awarded from the SFA database of Snoopy Awards but as this is incomplete you may not find the awardee there.
If you have a pin without even the name of the recipient you have no way of ever knowing exactly when it was awarded, although I have identified some characteristics below which may help tie a pin to a particular era. It's worth noting that even an anonymous pin is still valuable to collectors.
In addition to those Silver Snoopys given out as awards a small number of Apollo-era pins were carried by the astronauts themselves as souvenirs. Most of the examples sold to date in the major space auctions come from these sources and these pins are the only ones we know for sure were flown on any of the Apollo missions.
Apollo-era astronaut-flown Silver Snoopy pins
Separately from the SFA program, some Apollo astronauts chose to carry a small number of Silver Snoopy pins as mementos in their Personal Preference its (PPKs). These were not awarded as part of the SFA program, although some did present flown pins as personal gifts after their missions.
Larry McGlynn and Richard Jurek have researched the issue of how many Silver Snoopy pins were carried by the Apollo astronauts, talking to the astronauts themselves and examining PPK lists where possible. Their preliminary findings indicate that the total number carried on all 11 Apollo flights is at most around 90 to 110 pins, with a significant minority of those having been carried on Apollo 13. On most missions only a half-dozen pins were carried in total.
As these astronaut -carried pins are the only examples we know for sure to have been carried on Apollo missions they obviously fetch a premium when sold compared to SFA pins awarded during the Apollo era. The annex at the bottom of this page lists those examples of astronaut-flown pins I've seen sold at auction to-date.
Which mission was my Silver Snoopy pin flown on?
As noted above, it was originally believed that all awarded Silver Snoopy pins had been carried on missions but this has been cast into doubt in recent years, with no clear evidence that awarded pins were carried on Apollo-era missions.
Even without this doubt it has always been the case that with the exception of pins carried by the astronauts themselves or those awarded during the Shuttle program with explicit flight information it is simply not possible to say which flight a particular pin may have been carried on.
When it comes to awarded pins there is generally no link between the astronaut presenting an award and the mission it may have been flown on. Silver Snoopy awards have always been presented by members of the active astronaut corps who are available at the time of the presentation rather than those with a link to any particular mission.
Another common misconception is that an award presented in the months following a mission means that the pin must have been flown on that mission. In reality, we have seen Shuttle-era pins with explicit flight dates being awarded long after the flight itself. As an example, a pin presented in May 1994 not long after the flight of STS-59 might have been assumed to have been carried on that flight but in fact this particular pin was accompanied by a NASA letter that explicitly stated that it was one of those carried on the STS-34 mission in October 1989, nearly 5 years and over 30 Shuttle flights previously. This is unlikely to be an isolated example.
Another issue to be aware of is that pins can easily be sold with documentation that comes from a different source. I've seen pins that are clearly from the Shuttle era listed with award documentation from the Apollo era. In some cases this may be because NASA issues unflown replacement pins on request to awardees who have lost their original pins, in others it may be people attempting to boost the value of a pin without paperwork by combining it with paperwork without a pin. Occasionally an estate sale is the source of multiple pins - for example from the collection of someone who was at one stage responsible for some part of the SFA the award process at NASA or a contractor company - in which case any documentation is likely to be mismatched with random individual pins.
Finally, it is worth noting that there are many fake military pins and badges out there so we can't to rule out the possibility that fake Silver Snoopys may exist. With pins without any documentation selling for hundreds of dollars a piece the incentive is certainly there. With this in mind I would say that it is definitely worth paying extra for an example with at least some established provenance.
I realize that this kind of uncertainty is very frustrating for collectors but I believe that it's necessary to accept that in most cases you will never know which mission a particular Silver Snoopy pin was carried on, or indeed if it was flown at all.
Availability - Silver Snoopy pins occasionally turn up on auction sites such as eBay and a few have been sold in the major space auctions over the years. Most of the latter come direct from the collections of astronauts, and thus were never actually awarded, but these pins would be the only ones actually flown on Apollo missions.
Pins sold on eBay without any accompanying documentation tend to sell for anywhere between $200 and $1,300+, with an average of maybe $500. Those with accompaying documentation are a minority, and generally sell at a premium.
Note that fake pins are starting to become a real problem. Known examples are described in a dedicated section below.