Spacecraft ID plates - Apollo Lunar Module
As with Rockwell and the Command Modules, Grumman Aircraft Engineering Corp. produced similar spacecraft identification plates for the Apollo Lunar Modules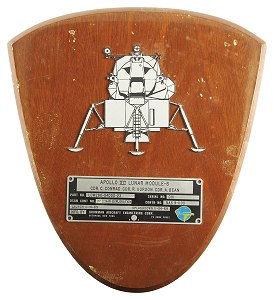 Dick Gordon's Apollo 12 Lunar Module
flown spacecraft id plate presentation
A spacecraft identification plate was fixed inside each Lunar Module when it was manufactured, and three identical copies were made as souvenirs. These three plates were stowed in the PPKs or Official Flight Kit at launch, although whether this was in the Command Module or Lunar Module is not entirely certain.
The three identical plates were returned to Grumman after the flight at which point the launch and splashdown dates were added and the plates were affixed to a wooden wall plaque for presentation to the astronauts.
Each brass plate measured 5.25" x 1.75" (133mm x 44mm) in size and was mounted on a 10" x 11" (25cm x 18cm) wooden shield-shaped wall plaque beneath a metal die-cut representation of the lunar module.
The text on the spacecraft identification plate from the Apollo 12 Lunar Module, affixed to the plaque shown on the right, reads as follows:
APOLLO XII LUNAR MODULE-6
CDR. C. CONRAD CDR. R. GORDON CDR. A.BEAN
PART NO. LDW280-54000-23 SERIAL NO. 001
DSGN CONT NO. 1ST LUNAR EXPLORATION CONTR NO. NAS 9-1100
LAUNCH 11-14-69 SPLASHDOWN 11-24-69
MFD. BY GRUMMAN AIRCRAFT ENGINEERING CORP., BETHPAGE, NEW YORK
FLOWN availability - Three id plates were flown on each manned Lunar Module flight so there were a total of three LM scid plates flown to Earth orbit (Apollo 9), six flown to the moon without landing (Apollos 10 & 13), and eighteen possibly flown to the lunar surface. A number of these flown s/c id plates have found their way to auction over the years as noted in the Annex below.
In addition to the official spacecraft id plates it appears that Grumman produced at least one more LM plate for the Apollo 12 mission. The plate shown on the right was apparently presented after the flight to a key Grumman employee who had worked on the Lunar Module, and is identical to the examples presented to the astronauts except for the addition of the employee's name at the bottom left of the plate.
This plate was mounted on a wooden block with an inscription stating that it was flown on the mission. Although at present there is no corroborating evidence to support this, it seems quite possible that Grumman had a number of such plates produced and arranged with NASA or the Apollo 12 astronauts to have them carried alongside the astronaut plates as mementos to present to key staff after the mission. This arrangement may have been specific to Apollo 12 and organized at the same time as the Grumman tie pins carried on that mission.