Faced with the strict volume and weight limits applied to the contents of the Personal Preference Kits the early astronauts were allowed to carry with them on their flights, it's not surprising that many chose to carry miniature silk or nylon flags as mementos.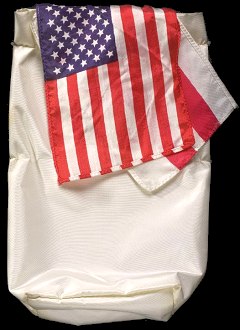 Mike Collins' Apollo 11 PPK as
displayed at the NASM
These miniature flags were cheap and easy to procure - NASA already had a large supply to carry in the Flag Kit or Official Flight Kit of each mission for use in official presentations - but also had great symbolic and aesthetic appeal.
The most popular flags carried were obviously the U.S. 'Stars and Stripes', but State flags (plus U.S. territories and the District of Columbia), and sets of foreign country flags were also carried by many astronauts for use as future gifts to friends and family. Other flags carried included that of the United Nations organization, Christian flags, and some Navy, U.S.A.F., and Marine Corps flags.
Most of the flags carried by the astronauts were roughly 6"x4" in size, but some larger flags were also taken, usually around 8"x6" or 18"x12" in size.
Since no full astronaut PPK lists have been published to-date (with the exception of Wally Schirra's hand-written itemized PPK list from Gemini 6 which only mentions "Various flags") it's impossible to know exactly how many flags, and of which kind, were carried by the astronauts on each mission. Things are further complicated by the fact that it's not always clear whether a particular flown flag presentation originated from an astronaut's PPK or NASA's Official Flight Kit.
In fall 2018 parts of some Apollo astronaut PPKs were made available in auction listings, giving us a little more information for some missions but unfortunately this was very limited.
However, looking at the clear examples of astronaut-flown flags which have been sold at auction over the years does give us some clue as to what was carried. Below I use this information to try to draw some tentative conclusions about which flags were carried by the astronauts on each mission.
Later I also discuss some more general issues related to flown flags, such as the importance of provenance and the factors affecting their value.
Flags carried in the astronaut PPKs per mission
The Mercury astronauts carried very few personal mementos on their flights. In fact the only Mercury flown flags I have seen sold at auction are a few 8x6" and 4x6" U.S flags, and a 4x6" flag of Hawaii, all of which were carried by Gordon Cooper on the final flight in the series. Other flags were no doubt carried on the Mercury flights but likely in very small numbers.

It seems that most of those Gemini astronauts who carried flags as mementos on their missions took just a few (maybe half a dozen or less) carefully-selected individual flags rather than the larger packs or flag kits carried on the later Apollo missions. These tended to be U.S. or State flags, often in large sizes (e.g. 12x18"), plus an occasional special flag such as a Christian flag carried by Wally Schirra on Gemini 6.
However, in 2012 Jim McDivitt put on sale flags that he carried on the Gemini 4 mission, including US flags, State flags, and an almost complete set of foreign country flags. More recently flags carried by John Young on Gemini 10 have been offered at auction which appear to indicate that he too carried a full flag kit in his PPK as souvenirs. Overall however, flags carried on the Gemini missions remain very scarce.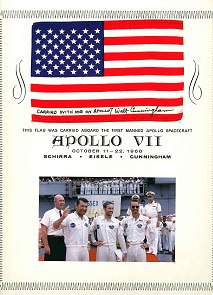 An Apollo 7 4x6" flown flag from
Walt Cunningham's collection
The Apollo 7 crew carried at least some U.S. and State flags on the mission in their PPKs. Walter Cunningham had many of his flown flags mounted on NASA-style 10x12" presentation certificates after the flight and offers some examples for sale via his website today. I have not seen any foreign flags flown on Apollo 7 by the astronauts.

Only a few official flown flag presentations from the historic Apollo 8 mission have been sold over the years and even fewer examples that appear to originate from the astronauts' PPKs. From this handful of sales we can determine that Jim Lovell carried some U.S. flags in his PPK[1] along with a few State flags, notably one from his home State of Wisconsin and four flags of Texas which have been sold over the last few years at auction. There has been no sign so far of any foreign flags flown on the mission by the astronauts.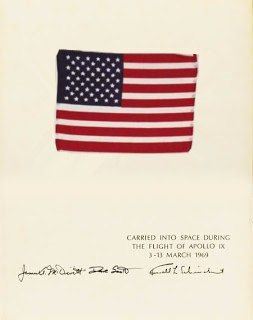 One of the Apollo 9 4x6" flown flag crew-signed presentation pieces
The Apollo 9 crew appear to have carried U.S., State, and at least a few foreign flags on the mission. They had special 10x13" presentation boards made up after the flight for flown flags and slightly larger 14x11" boards for flown flags mounted side-by-side with flown crew patches from the mission.
These presentations were generally signed by all three crew members although some examples from the collections of individual crew members are only signed by one of the astronauts.
Apollo 9 mission commander Jim McDivitt also recently put on sale flags from his personal collection that he had carried on the Apollo 9 mission. These were mostly US flags (some oversize), plus a few State flags, and a handful of foreign flags.

Most of the flown flag presentations I've seen from the Apollo 10 mission appear to be NASA official versions. If the crew carried flags in their PPKs it was likely in small numbers with maybe a few U.S. flags including a few oversize versions.

Flags flown on the Apollo 11 mission are highly sought-after by collectors. In terms of flags carried by the astronauts in their PPKs it seems that Aldrin and Collins both carried at least some U.S. flags, with Collins apparently also carrying some State flags as well as at least one Italian flag (the country of his birth).
Both Aldrin and Collins apparently had most of their flown flags mounted on standard NASA presentation certificates after the flight, although Aldrin also had his own larger matboard presentations made up, with the flown flags mounted with large photos of Aldrin on the lunar surface.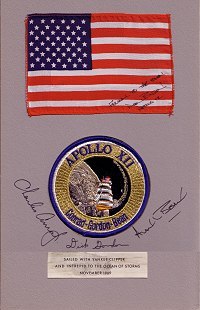 One of the Apollo 12 4x6" flown flag crew-signed presentation pieces
The Apollo 12 crew apparently carried a significant number of U.S. flags of all three sizes between them, along with at least a few oversize flags of Texas. These were mounted on matboard presentations after the flight which were usually then signed by all three crew members.
The smaller 4x6" flags were mounted above embroidered mission patches (some of which were also flown) on 8x12½" grey boards with a small printed descriptive text glued below the patches. These were signed by the crew below the mission patch. The largest (roughly 17x11") flags were mounted on 20x16" boards with the same glued-on labels beneath them, and were signed along the bottom of the mat by the crew.
In 2018 parts of the PPK listings of Pete Conrad[2] and Alan Bean[3] were made public. Although there was only a single entry for 5 US flags on one of the PPK lists, hand written notes on Conrad's papers appear to show total numbers of flags from different PPKs being added up. There are several different sums shown, the largest of which gives a total of 635 flags. However, it's not clear whether some of these were flown only in the Command Module, or what kind of flags they were.
It seems reasonable to assume that most of these flags were of the U.S., since virtually all the flags originating from the crew are U.S. flags, and it's possible that some of the sums shown are for different sizes of flags.

On the Apollo 13 mission, it seems that Jim Lovell may have carried a standard flag kit (with U.S., State and foreign flags) in his PPK and had the flags mounted on offical NASA-style presentation certificates afterwards. Examples of these flags have been sold over the last few years in some of the major space auctions. Only a few flown U.S. flags from the collection of Fred Haise have been sold at auction and no examples from the collection of Jack Swigert that I'm aware of.

Based on the Apollo 14 flown flag examples offered at auction over the last few years, Ed Mitchell appears to have carried a full flag kit on the mission, containing U.S., State and U.N. member flags. I have not seen a significant number of flown flags that appear to have originated from the collections of either Al Shepard or Stu Roosa.

It seems that each of the Apollo 15 astronauts carried at least one full flag kit - 25 or more US flags, 50 State flags, and a full set of flags of the countries belonging to the United Nations - in their Command Module PPK on the flight. The Lunar Module PPKs were apparently left behind by accident but Dave Scott did carry a small pack of U.S. flags in a suit pocket throughout the mission.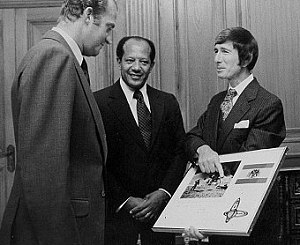 Apollo 15 astronaut Jim Irwin presents a flown flag to the king of Spain from his High Flight Foundation
© High Flight Foundation
Both Dave Scott and Al Worden have offered a significant number of their flown flags for sale at auction over the years, and Worden currently offers individual foreign flags for sale through the Farthest Reaches website.
Jim Irwin used the flags from his own PPK to create presentations for his High Flight Foundation. These presentations were produced in the same style as the official flown flag displays produced by NASA for the astronauts to present during the post-flight Apollo 15 goodwill tours, but with a High Flight patch used in place of the Apollo 15 crew patch mounted on the official NASA presentations.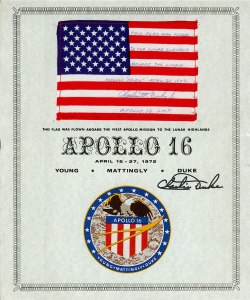 An Apollo 16 flown flag from Charlie Duke
Apollo 16 astronaut Charlie Duke apparently carried U.S. flags and some State flags in his PPK on the mission, but I've not seen any foreign flags sold from his collection.
Duke seems to have had most of these flown flags mounted after the mission on 10x12" certificates in the same style as those used in NASA official presentations.
In 2018 Duke's LM PPK listing[4] was made public and this included an entry for "350 flags in packet". No further details are given so we don't know the type of flags or their sizes, however it seems likely that at least the majority of these were standard 4x6" U.S. flags. As this is only the Lunar Module PPK we don't know if he carried more flags in his Command Module PPK(s).
Although John Young sold a number of flown mementos from his missions after he retired from NASA this did not include a significant number of flown flags from Apollo 16. Nor have I ever seen any flown flags originating from the collection of Ken Mattingly.

The Apollo 17 mission saw the introduction of strict new limitations on the content of the astronaut PPKs (renamed Astronaut Preference Kits for this flight) which meant that each astronaut APK could contain only twelve individual items. On this flight only the astronaut APKs went to the lunar surface in the Lunar Module, whilst the official NASA flight kit (and flag kit) stayed in orbit in the Command Module.
A small but significant number of Apollo 17 flown 4x6" U.S. flags were presented by Gene Cernan and Ron Evans to individuals after the flight. These flags were not signed or marked in any way, nor were they mounted to certificates or presentations, but each flag was accompanied by a typed letter on NASA headed note paper which was usually hand signed by Cernan and Evans.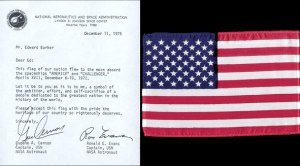 An Apollo 17 flown flag & accompanying letter
It's an open question as to whether these flags were carried in the Lunar Module as part of the astronauts' APKs or in the Command Module as part of NASA's Official Flight Kit.
The wording of these letters - stating that the flag was carried on "America" and "Challenger" - is taken by some as indicating that the flags were carried on the Lunar Module, leading to the suggestion that they may have been carried in the astronaut's APKs.
For the APKs to be the source of these multiple flags the strict limit of 12 items per APK would have to have been circumvented by treating a pack of multiple flags as a single item. Although this might have been possible it has been reported by those who have examined the APK listings that the only flag mentioned therein is a single oversize US flag carried by Cernan. There is still some possibility that a pack of flags may have been bundled with this large flag to be counted as one item but we have no way of knowing this.
If we rule out the APKs as the source of these flags then we have to assume they were carried as part of NASA's OFK and later given to the astronauts. Nominally this would mean all the flags were carried in the Command Module as the Apollo 17 Stowage List notes the OFK as being stored in the Command Module at launch and not transferred to the Lunar Module during the flight.
Cernan himself was apparently under the impression that some limited set of flags were carried in the LEM, and annotated one of these letter-accompanied flags as being flown to the surface based on this assumption. However, this was done 40 years after the fact and without any explanation as to how or where they might have been carried.
As of today we don't have any solid evidence to prove that these flags were carried to the lunar surface so it remains an open question.
The fact that nothing was noted on these flags by the astronauts means of course that the only thing authenticating them as flown is the accompanying letter. In the mid 2000s at least one such flag appeared for sale with alarming regularity accompanied by a copy of a presentation letter with no clear explanation as to where the original letter was or why the flag was separated from it. A backstory involving the original owner having been given a pack of multiple flags accompanied by a single letter does little to strengthen the provenance of these particular flags, particularly as the accompaying letter refers in the singular to "this flag". Clearly, having the original letter is of paramount importance when it comes to this type of Apollo 17 flown flag.
Notes for Collectors
The importance of provenance
Since there are no visual clues that allow us to differentiate a flown flag from an unflown example, provenance is all-important.
The strongest provenance lies with flags signed and explicity inscribed directly on the flag itself as having been carried on a particular mission by one of the crewmen. At least in the early days this was actually done fairly infrequently for several reasons. Writing on the porous and movable surface of these flags is challenging and could easily result in a blurred or shaky mess. In addition it seems that the general feeling at the time was that writing on a flag could be seen as defacing it in some way. Finally, many of the astronaut-flown flags were actually mounted on special presentations soon after the flights, with signatures and descriptive text (stating that the flag was flown) being added to the matting or certificate. This made writing on the flag itself seem largely redundant.
Flown flags mounted on astronaut-signed presentations represent the next best thing, in terms of provenance, to directly-signed flags. The only potential problem comes if the flag becomes detached from the presentation, but overall the provenance of these signed presentations is effectively as solid as that of flags which have been signed directly. It's worth noting that over the years many astronauts have changed their attitude to signing on flags, having come to appreciate the value of solid provenance, and so have sometimes added inscriptions and signatures to flags from their collections that are already mounted on signed presentations.
Some of the astronauts who kept their flown flags unmounted, but who did not want to sign and inscribe the fags for the reasons noted above, added a discrete hand-written serial number on the reverse of each flag and prepared a matching letter of authentication for each one. The provenance of these examples is solid as long as the flag and letter are kept together.
Somewhat weaker in provenance is a loose flag with nothing marked on it which is accompanied by a letter or certificate of authentication signed by an astronaut. As long as the two items stay together this is fairly solid but without the letter the flag alone becomes effectively worthless.
Another fairly common combination is a flag mounted to an official NASA presentation stating it as flown, but which has only printed or Autopenned signatures or in some cases no signatures added at all. These pieces are still interesting if the presentation is of a known style and appears to be authentically vintage but in the long term an example which is signed is always going to have more value.
The weakest provenance by far is a plain flag either un-accompanied by any letter or certificate, or one mounted in a home made and un-signed presentation. Some flown flags were given by astronauts to friends and acquaintances without anything being written down. The recipient would mount the flag in their own way, perhaps with a printed or engraved plaque describing it as flown, or even just keep it in a drawer. The problem of course is that decades later the lack of written provenance from an astronaut and the fact that that flag is not mounted on a recognisable official NASA presentation makes buying such a flown flag an act of faith.
Factors influencing value
The value fetched by a particular flown flag can obviously vary wildly from auction to auction but there are some basic factors that determine the relative value of each flag:
Provenance - Discussed in some detail above. Flown flags with solid provenance will generally sell better than those without.
Size - In general the larger size flags are rarer and tend to be more highly-valued by collectors.
Where 'flown-to' - Flags carried on the lunar missions will generally be more highly valued by collectors than those 'only' carried to Earth orbit. Those that went all the way to the moon's surface in the Lunar Modules will be worth more again than those that remained in lunar orbit. Finally, the few that were carried in suit pockets onto the lunar surface during the EVAs have even more appeal for many collectors thatn those that remained in the spacecraft. Likewise those carried in the suit pockets of spacewalking astronauts during the Earth orbit missions may be more highly valued than those that were stored in the spacecraft throughout the mission.
Mission - Whether justified or not, some missions are more famous than others and flown flags from those missions are inevitably more popular with collectors. Apollo 11 is the most obvious example, but Apollo 13 also has a fame that boosts the value of flags from the mission. 'Firsts' are also a factor that influences value - e.g. Apollo 8 being the first mission to the moon gives flags carried on that mission a certain cachet.
Astronaut - Whether more knowledgable collectors like it or not, flags coming from the personal collections of the more famous astronauts are likely to have a little more value than those from less well-known astronauts.
Scarcity - Very few flown flags are available from some missions, for example the Mercury flights, most of the Gemini missions, and even Apollo 8, which may help boost the value of flown flags from these missions. On the other hand, although relatively few flags were carried by the astronauts on Apollo 17, the significant number of NASA flown flag presentations from this mission somewhat compensates for this, helping to keep down prices overall.
U.S. vs State vs Foreign - U.S. flags are the most valued in general for obvious reasons. State flags may appeal to individual U.S. collectors for personal reasons, and flags from Texas with its strong links to Mission Control may have fairly wide appeal, but in general State flags sell for significantly less than a U.S. flag flown on the same mission. Foreign flags obviously have a specific appeal to people with links to a particular country but as with State flags they tend to sell for significantly less than equivalent U.S. flags.
Collecting flown foreign flags
Many, or possibly all, of the astronauts carried at least some U.S. flags in their PPKs and a signficant number carried at least some State flags too. NASA also carried significant numbers of both, at least from the Apollo mission onwards, in the Official Flight Kits to be used in post-flight presentations to companies and individuals. All this means that a reasonable number of such flown flags can, and do, find their way to market.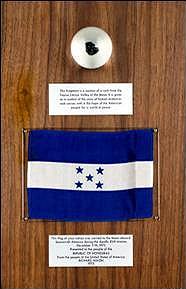 The Honduras Apollo 17 Goodwill Moonrock presentation complete with flown national flag
By contrast it seems that at most only one or two examples of each U.N. member state's flag were carried by NASA on each Apollo flight. These were generally used in presentations given directly to the heads of state of each country after the flights, e.g. in the Apollo 11 and 17 moonrock presentations. This means that virtually no flown foreign flags from the Offical Flight Kits ever make their way to market, which leaves the only potential source of flown foreign flags being those carried in the astronaut PPKs. In practice this means that there is a very limited supply of Apollo flown flags from any particular country outside of the U.S. available to collectors, and virtually none from the Mercury and Gemini missions.
Although it's not clear exactly what restrictions were placed on the size and weight of Gemini era PPKs, we know that the early Apollo flights, up to and including Apollo 11, had extremely restrictive PPK weight limits. This meant that it was likely difficult for any of the astronauts on these missions to carry a full flag kit with them even if they had wanted to. The same weight restrictions, along with more stringent limits on the number of items flown, were brought in again for Apollo 17. so the only Apollo missions on which a full set of foreign flags were likely to have been carried by any astronauts were Apollos 12 through 16.
In practice it seems that such flags were likely carried on Apollo 13 (by Jim Lovell), Apollo 14 (by Ed Mitchell) and Apollo 15 (by all three crewmen). We can also add to this list Gemini 4 (Jim McDivitt), and Gemini 10 (John Young). Other astronauts may have carried some foreign flags (the Apollo 9 crew carried a few) but at the present time have no evidence that a full set of U.N. member state flags was carried by any astronaut not on this list.
One thing to bear in mind when looking for a flown flag of a particular country is that some modern countries simply didn't exist in their current form in the late '60s or early '70s. Some countries that did exist then have since split into new countries (as is the case with Czechoslovakia, Yugoslavia, and the U.S.S.R.) or merged with others to form a new country (as happened with the G.D.R.). The flags of countries that no longer exist in their original form may of course still appeal to those with origins in these former countries, and may also have appeal from a historical perspective.
Even when the country did exist at the time, the design of the national flag has sometimes changed in the meantime - Spain and Egypt (which was the United Arab Republic until 1972) are just two examples amongst many. In some cases the old flag design may have negative associations for the modern generation which might affect the appeal of a flown vintage example.
In general the demand for flown flags of individual foreign nations reflects the number of active collectors of U.S. human space program memorabilia in the country more than any other factor. Flown flags from the U.K. and Germany are always popular for this reason. Many of the more 'obscure' foreign flags are bought by collectors more as a way to acquire a piece of flown memorabilia relatively cheaply rather than because of any particular link to that country. The low prices fetched by many flown foreign flags also probably reflects the fact that in most countries potential collectors are simply unaware that it is possible to acquire such an item.
Given that for any particular nation there may be as few as five examples of pre-Shuttle-era flown flags out there (if we exclude Jim Irwin's High Flight flags which are not on the market) it seems likely that whilst short term interest might be limited to space collectors, in the long term the number of potential collectors of such memorabilia from most nations is likely to always exceed the supply.
Conclusion
Collectors who are particularly attracted to putting together sets of items will tend to find mission-specific medallions and covers more appealing collectibles than flown flags, which are after all generic across the missions. However, thanks to their obvious symbolic appeal and the fact that they make striking and attractive mounted displays, flags flown on the pioneering Mercury, Gemini and Apollo missions are likely to remain amongst the most popular collectibles of the space race.