Disclaimer
It is important for collectors to note that this is a guide and an assembly of what is believed to be the best information available on the Apollo Insurance Covers, but it is not the end of the discussion and does not pretend to be the last word.
This disclaimer precedes the article because the ideas and opinions contained herein may be unsettling to some collectors.
Introduction
During the great space race, our nation's pioneering astronauts were treated like modern day music and movie stars. Collectors inundated them with autograph requests. Ironically, and strangely fitting, these same astronauts came to use their own autographs, as a special form of insurance to financially protect their families should their mission fail. And in doing so, they created one of the hobby's more unique and complex autograph collectibles sought after by most serious vintage space autograph collectors.
During the Apollo lunar program of the late 1960s and early 1970s, the individual missions were considered so dangerous and hazardous that the astronauts could not secure adequate private life insurance for their families, or at least this is the popular myth. In reality, they could get insurance - although NASA was not allowed to pay for it - but they just couldn't afford it. The dangers were so high that the premiums were out of reach for their salaries at the time. However, quietly, and unbeknowst to the general public, some third parties stepped in, and covered a basic insurance premium package for them (see footnote for more details).
Independently of this, the astronauts decided to provide their families with a tangible asset should their mission fail, in the form of the "Insurance Covers". The Apollo astronauts signed a series of philatelic covers in preflight quarantine that were then postmarked and canceled on either the day of the launch or on the day they landed on the Moon. These covers were then dispersed to designated family members for long-term safekeeping. Should the astronauts not return from their mission, the family could sell the signed covers to collectors, providing the family with a considerable amount of financial security. They are unique to the Apollo era and perhaps unique in all of autograph cover collecting.
The Insurance Covers were the idea of Matthew and Eunice Radnofsky of Seabrook, Texas. They produced them, along with members of The Manned Spacecraft Center Stamp Club (MSCSC) in Houston, Texas. Eunice was the correspondence handler for the stamp club. It all started with Apollo 11. The covers were not done officially and mainly the stamp club in Houston arranged for most of the logistics for each Apollo crew. The MSCSC and then the astronaut families kept the covers while the missions were underway. After they returned safely, the covers were stored away or dispersed in various ways. No NASA or official record was kept because they were private and personal items of the astronauts. NASA may have given their official OK for the astronauts to create them, but they were just something that the astronaut crews did themselves with much help from the MSCSC. The club went on to produce MSCSC cachet covers for the subsequent Apollo lunar missions.
Space autograph collectors are fascinated by these covers and the special role they played in allowing the astronauts to have peace of mind in their work, knowing that their families would have some financial security should their mission fail under dire circumstances. Insurance Covers are also one of the best ways to acquire a guaranteed set of authentic crew signatures.
Specifics
Insurance Covers started with Apollo 11 and continued on until the Apollo 16 lunar voyage. There were for various missions more than one design or type of cover; Apollo 11 (3 types), Apollo 12 (2 types), Apollo 13 (2 types), Apollo 14 (2 types), Apollo 15 (1 type), and Apollo 16 (1 type).
Insurance Covers were NOT signed by the crewmembers just hours before their launch to the moon. The crew would usually enter crew quarters about a month before their scheduled launch. In between their training and other astronaut/and crew assigned duties, as time permitted, crewmembers - sometimes individually - would autograph their covers. Sometimes even different pens and inks were used (i.e. the Apollo 11 cachet types) as batches were signed at different times within the few weeks before their moon-bound voyages.
One important factor that must be met in order to qualify as an "Insurance" Cover is the origin of the cover. It must come from an appropriate source (i.e. a crewmember, family member, or friend) in which the cover was held for insurance purposes from the original batch, and that may be difficult to prove if the cover has had a multiple-owner history.
That is one problem with the MSCSC Insurance Covers in that they are identical to those that were also available to collectors, so it's possible that some were canceled for the flight but signed by the crews after the mission, which, of course, would not make them Insurance Covers. This is why a cover's certification is key, as it assures that a cover is an authentic Insurance Cover. It is important to have a certification letter from a crewmember, their family or friend who knew of the cover's origin. Better yet, having the reverse of an insurance cover directly certified by a crewmember is probably the most desirable format.
Aside from the MSCSC covers, there were special printed insignia covers, known both as the "astronaut-insignia" and/or the "Bishop" covers, named after their creator Al Bishop, an aerospace public relations specialist who had contact with the astronauts. After hearing about the Apollo 11 philatelic practices that originated from the Houston stamp club, he wanted to direct and control another special cachet designed cover of his own for the astronauts' and their families exclusively. Thus, this is what created the first "insurance astronaut-insignia" cachet designs, a crew patch/mission emblem cachet and various insignia, such as astronaut and/or military symbols, which were incorporated into the cachet design of high-quality rag content envelopes. A printing company in Cocoa, FL, not Houston, produced the special cachet covers, starting with Apollo 12 to Apollo 16. The astronaut-insignia covers had nothing to do with the MSCSC, even though Apollo crews still maintained contact with them in signing and using (even flying some to the moon) their stamp-club cachets. The Bishop covers are unique; in that the cachet design was printed exclusively for the crew, families and friends and were not made available to collectors. They were produced in fewer quantities than the MSCSC envelopes from Houston and likely not more than 1,500 were produced.
In the cases of both types of covers, there were a number left over and many were stamped and canceled but not signed. As time went by, many of these were sold and dispersed and some later signed by one or more of the astronauts. But these are NOT Insurance covers, as the crew did not sign them preflight. These left over covers are generally referred to as "Insurance-type" Covers and pop up from time to time.
Numbers? Who knows? Probably at least 500+ for each mission would be in the ballpark. But some flights had fewer done, with probably Apollo 13 and 16 the smallest number and Apollo 12 Bishop covers and Apollo 15 covers the most, while the Apollo 11 and 13 covers are currently among the most expensive. Apollo 11's are expensive because of it being Apollo 11, even though a fair number of Apollo 11s probably exist. Apollo 11 CMP Mike Collins was asked if he could verify how many insurance covers were done for Apollo11 and while he could not confirm the exact number, he said that he believed the number was maybe a 1000 in total.
Advisory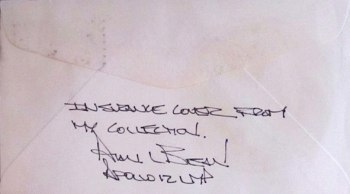 An Apollo 12 Insurance Cover explicitly certified
as such on the reverse by Alan Bean
Collectors are advised to acquire Insurance Covers that are directly from astronauts or their families whenever it is possible, even if at an additional cost. It is likely that Insurance Covers that are directly certified on the reverse of the cover by a member of the representative crew will become the most treasured in the future because they cannot be questioned as to what they are.
It is realized that hundreds of likely Insurance Covers have been sold over the years by astronauts, their families and by collectors, and the thought of having each certified was never really considered. However, as more research has surfaced, it does seem that many of the covers that have the characteristics of Insurance Covers may actually just be signed covers and not of the original lots that were put aside as intentional Insurance Covers.