Apollo-era
The Apollo stowage lists show that a tool set (consisting of various socket wrenches and screwdriver heads in a beta cloth pouch) was carried on each mission in a command module locker.
O 0308.
V36-601135-201
TOOL SET ASSEMBLY
A1
5.4
1
Tool Set entries from the Apollo 11-17 Stowage Lists. Note that on Apollo 16/17 the version number changed to -501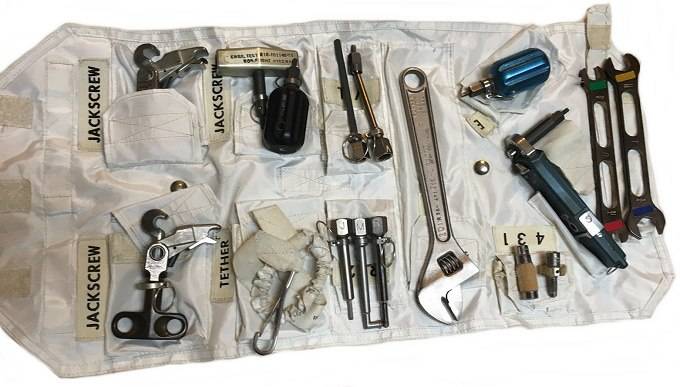 The Command Module tool set shown above is from the Skylab project but is likely very similar to that used on the Apollo missions.
In addition, to the tool set, a pair of needle nosed pliers was shown stowed in the lunar module on Apollos 12 through 16.
A 1039.
SEB33100397-301
PLIERS,NEEDLE NOSE
F7J
.1
1
Entries from the Apollo 12-16 Stowage Lists (stowage locations vary by mission)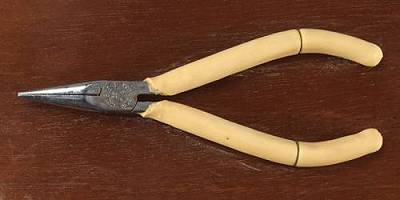 The needle-nosed pliers shown on the right were carried on Apollo 13 and presented after the flight to Joe Kerwin.
These were added to the inventory from Apollo 12 onwards as a direct result of the broken circuit breaker experienced in the Apollo 11 Lunar Module while on the lunar surface.
During that mission the circuit breaker was closed by inserting the end of a pen into the broken end but this solution was not ideal, and would not have helped in the event of a circuit breaker stuck in the closed position.
Finally, on Apollo 17 the Commander also carried a small set of "LM Contingency Tools" in his strap-on suit pocket as shown in the stowage list entries below.
A 0211.
N/A
BAG,BETA (LM CONTINGENCY
TOOLS)
IN CDR LOWER STRAP-
ON SUIT POCKET
.1
1
A 0212.
N/A
SCREWDRIVER,BLADE
IN A0211 (IN CDR
SUIT POCKET)
.2
1
A 0213.
N/A
SCREWDRIVER,OFFSET
PHILLIPS
IN A0211 (IN CDR
SUIT POCKET)
.2
1
A 0214.
N/A
PLIERS
IN CDR LOWER STRAP-
ON SUIT POCKET
.3
1
LM Contingency Tool entries from the Apollo 17 Stowage List.

Flat head screwdriver carried by John Young on Apollo 10
Among the few Apollo-flown tools I've seen sold at auction were two items that were part of a miscellaneous collection of items flown on Apollo 10 by John Young that was sold at auction in 2009.[4]

Wrench carried by John Young on Apollo 10
The collection of flown items from Apollo 10 included two tools - the 4" long German-made flat-head screwdriver with a translucent yellow plastic handle shown above and the small (2¾") German-made adjustable-end wrench shown on the left.
Whether these two items were originally part of the Apollo 10 tool set assembly, or were 'smuggled' aboard by Young in a suit pocket as he did with the pliers on Gemini 10, is not clear.