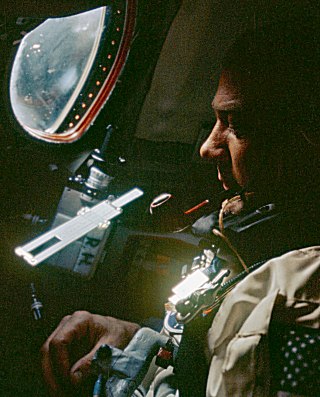 Detail from Gemini 12 photo S66-62984
As this site is intended to focus on collectible flown artifacts, including a page on sliderules at this point is a bit of a stretch since I am only aware of two examples of flown sliderules from Apollo missions being sold to-date - Buzz Aldrin's Pickett N600-ES sliderule from the Apollo 11 mission and Ron Evans' Pickett sliderule from Apollo 17.
However, a number of sliderules were carried on the Apollo missions - and on Gemini as evidenced by the photo of Buzz Aldrin on the right - so more flown examples may surface in the future.
The sliderule from Gemini 12, Aldrin's Apollo 11 flown sliderule sold at auction in 2007, and a flown sliderule from Apollo 13 in the Smithsonian collection are the only examples we have to go on in order to know which sliderules were actually used by NASA, as the Apollo stowage lists don't give any details beyond a part number.

Aldrin's Apollo 11 sliderule (Photo courtesy Heritage Auctions)
All three sliderules were manufactured by the Pickett Company. The Gemini 12 example visible in the photo above appears to be a white Pickett 6" pocket sliderule model N600. Those from Apollo 11 and Apollo 13 are Pickett N600-ES versions - the "ES" designation indicating they used the yellow "eye saver" coloration. These are all standard commercial issue sliderules without any visible modifications - not even velcro tabs or printed, stamped, or etched part or serial numbers.

Apollo 13 flown sliderule from the Smithsonian collection
Various features of Pickett sliderules can be used to date them[1], most obviously the style of logo used. This tells us that the Apollo 11 example was produced between 1962 and 1964, whilst the Apollo 13 example in the Smithsonian collection actually has an older logo style dating its production to between 1958 and 1962.
To know how many sliderules were carried on the Apollo missions we need to look in the stowage lists and the Apollo 11 Stowage List entry for a sliderule is as follows:
A 0207.
SEB33100047-302
SLIDERULE
ON CREW
NEG.
1
No sliderule is noted in the Stowage Lists for Apollo 7 or 8, but from Apollo 10 onwards a single sliderule is included, carried by one of the crew at launch time. The exception is Apollo 15, where two sliderules were carried by the crew.
FLOWN availability - Only one flown sliderule from the Apollo era has been sold to date but others may still be in the collections of astronauts. According to the Stowage Lists at least 9 examples were carried on the Apollo missions, one of which has been sold, with a another example in the Smithsonian collection.
Unflown availability - Vintage Pickett sliderules of the same designs used by NASA can be found on eBay although you will need to pay attention to the Pickett logo to find the exact models. Vintage Pickett sliderules are quite sought-after so you should expect to pay upwards of $50 for decent examples.